UoB's Sustainability Impact Report: 2018-2019
UoB's efforts and progress towards the SDGs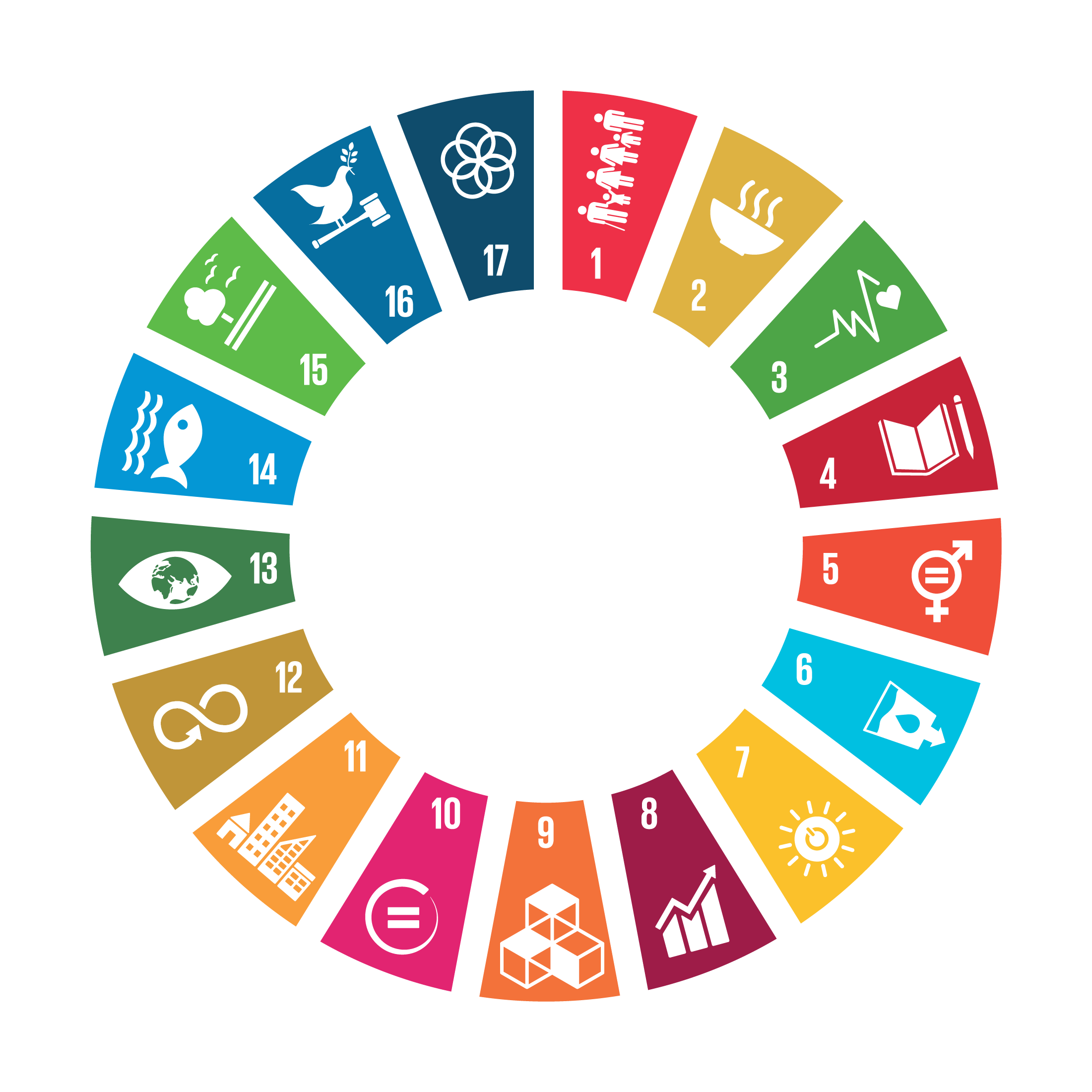 UoB's Sustainability Impact Report: 2018-2019
UoB's efforts and progress towards the SDGs
WORLD CLASS PARTNERSHIPS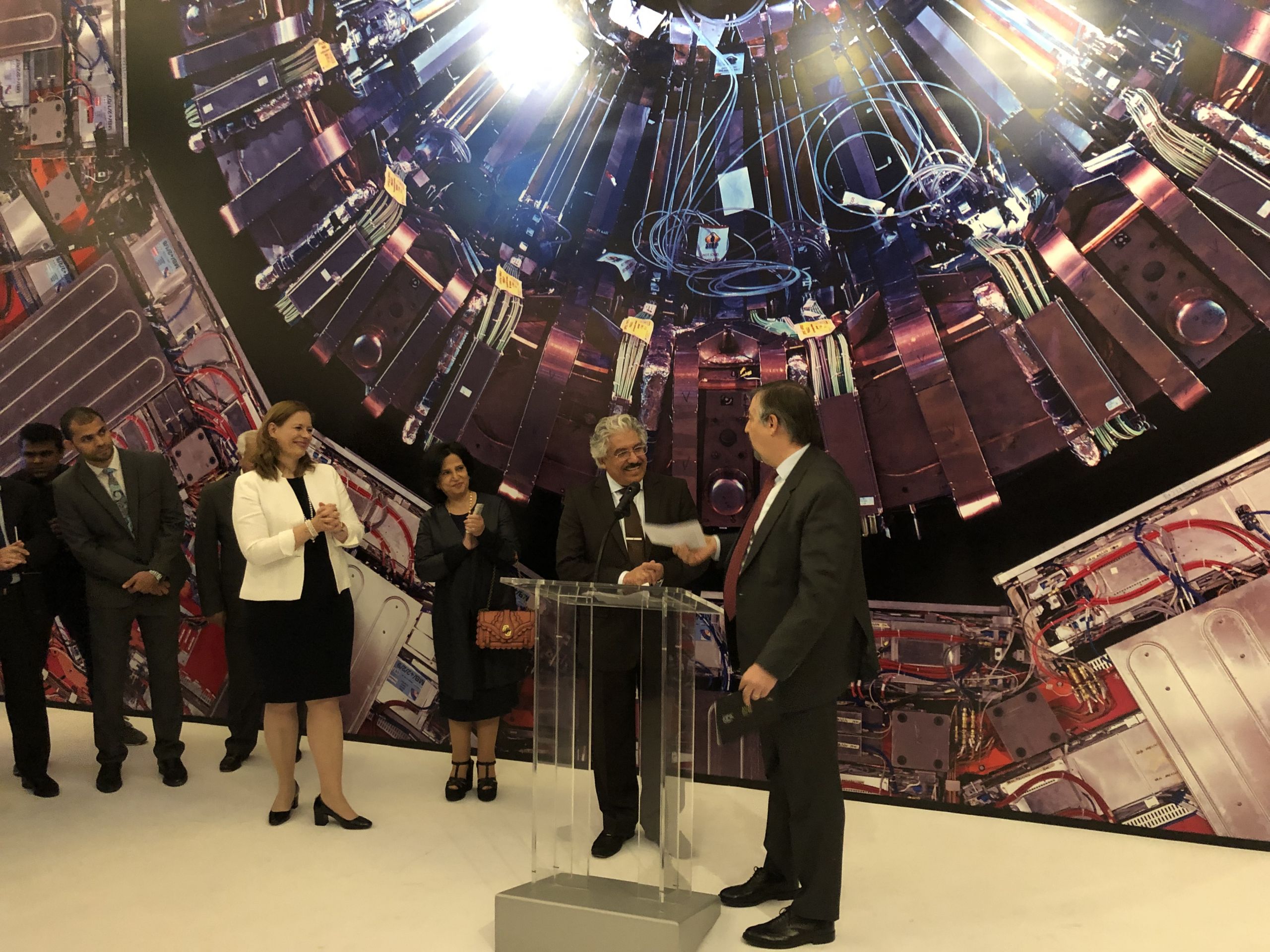 In 2019, the University of Bahrain has become an Associated Institute in the Compact Muon Solenoid (CMS) experiment at the European Nuclear Research Center (CERN), adding to the University's path of scientific excellence. This international collaboration is an important step for the Kingdom of Bahrain to achieve further global cooperation
[...]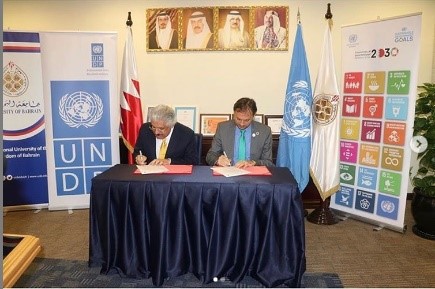 In November 2018, the University of Bahrain signed an agreement with UNDP to enhance joint and collaborative activities for gender equality and promoting innovation with common target of raising awareness and promoting the achievement of SDGs in Bahrain. UNDP supports the university in the validation and joint launching of the
[...]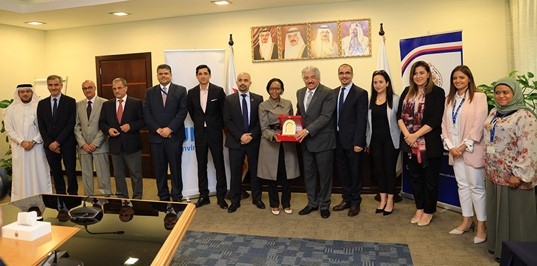 United Nations Environment Programme (UNEP) and University of Bahrain (UoB) signed a memorandum of understanding on 20 May 2019 to provide strategic support to youth in education. Through this agreement, the University joined the International Youth and Education Alliance. UN Environment and the University of Bahrain will collaborate on areas
[...]
OUR POLICIES
Purpose The University of Bahrain contributes to the processes of policy drafting, implementing, and revision for external entities, both in private and public sectors, locally and globally, as well as the community at large. Definitions SDG: refers to Sustainably Development Goals. External entities: refers to individual and/or organizations which are
[...]
This policy establishes the research environment for the academic staff and postgraduate research students. It provides an overarching framework for the development and implementation of contract research at the University of Bahrain. Scope The purpose of this policy is to establish the terms and conditions under which the Deanship of
[...]
This policy sets out the conditions that permit faculty members to engage in their scholarly pursuits of teaching, research, and related activities free from interference or obstruction. Purpose To provide a clear statement of the position of the University with regard to Academic Freedom Definitions Academic freedom: refers to the
[...]
University of Bahrain 2018 – 2019 Impact Report.
At University of Bahrain, we believe that achieving the Sustainable Development Goals (SDGs) requires a collective collaborative effort. We view the SDGs as a blueprint to achieving a better and sustainable future for all and leave no one behind. Each of the 17 goals address a specific global challenge that we face. Over the past year we have questioned the role, the play and contribution we make when it comes to the progress of the 17 goals. Read our Impact report highlighting an accumulation of our current efforts and progress.
OUR RESEARCH
The structural, optical and electrical properties of un-doped and (Al,Er) co-doped zinc oxide (ZnO) powders synthesized by hydrothermal method were investigated. The obtained samples were characterized by X-ray diffraction (XRD), transmission electron microscopy (TEM), energy-dispersive spectroscopy and magnetic measurements. XRD results reveal that the incorporation of Al and Er in
[...]
The sensing characteristics of extended gate field effect transistor (EGFET) as pH sensor based on V2O5 nanorods (NRs) was fabricated for the first time. The as-deposited V2O5 NRs onto glass substrate by using spray pyrolysis method have a diameter of 140–160 nm and a length of 300–500 nm. The V2O5 NRs based
[...]
Background: Fast food restaurants have become widespread in both developed and developing countries due to nutritional and economic transitions. The frequency of fast food intake is relatively high among adolescents; however, fast food consumption is positively associated with total energy intake and obesity in adolescents. Objective: This study aimed to
[...]
READ OUR BLOG
The University of Bahrain's PhD program in Environment and Sustainable Development (ESD) focuses on environmental sustainability, with an emphasis on the 2030 Sustainable Development Goals. The program equips students with the knowledge and perspectives needed to answer important questions about diverse environmental problems. Nearly all colleges at the University of
[...]
The University of Bahrain team for Green House Gas (GHG) inventory was established in 2017 as part of the Supreme Council for Environment, and the United Nations Development Program. The University team aim to release the Bahrain Third National Communication Report under the United Nations Framework Convention on Climate Change.
[...]
The University of Bahrain has managed to reduce its water consumption by 44 % compared with 2018.  An appreciation letter for this major water consumption reduction in campus has been received from the Electricity and Water Authority (EWA) in Bahrain. The water total consumption reduction achieved by implementing proper irrigation
[...]